Work to tackle smell on Bangor's Parc Menai estate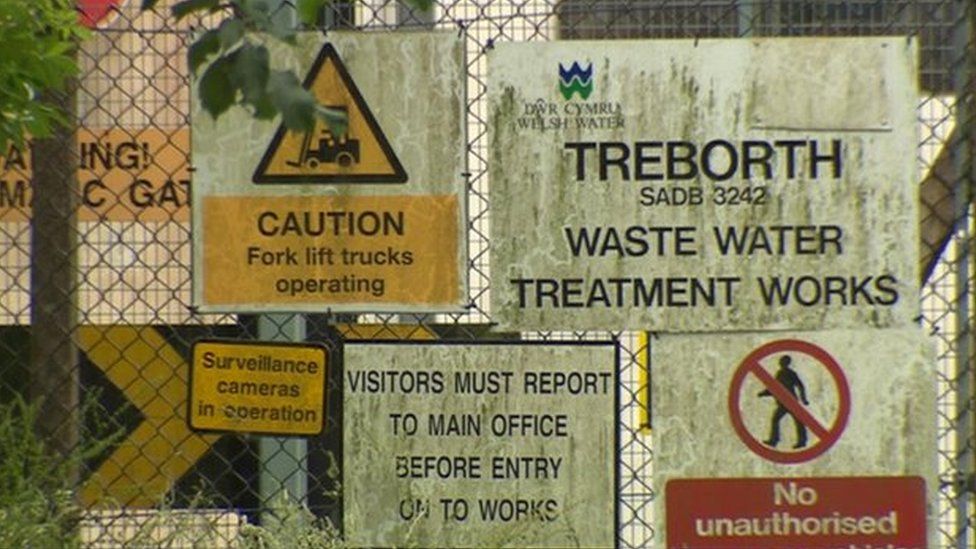 Work is due to begin to tackle an "unpleasant" smell from a water treatment works near a business park in Bangor, Welsh Water has said.
Companies at Parc Menai have had to cope with bad odours coming from the Treborth waste water works since June 2014.
More than 80 businesses are based at the site, and workers said they cannot open windows because of the smell.
Welsh Water apologised for the "odour issues".
The work is part of a £1.7bn investment the company is carrying out on water networks between 2015 and 2020.
Cefin Roberts founded performing arts school Ysgol Glanaethwy which is based in Parc Menai - its choir reached the live finals of ITV's Britain's Got Talent last year and came second in Last Choir Standing on BBC One in 2008.
He said the smell affected Cor Glanaethwy rehearsals, and pupils and parents had complained.
"Sometimes it does get bad, it is at its worst in the summer but it certainly hasn't gone. Even recently it's as bad as it was, but not as often," he said.
"I've heard they [Welsh Water] have been trying to resolve it. I hope this time the promise will be kept, it's quite a busy business park... It's a shame this can probably affect some of the businesses.
"On a very bad day it does smell inside [the school] even a few hours after the wind has blown the bad smell outside away."
Kerry Zalot, who works at Elizabeth Bradley Designs at Parc Menai, said it was a "very unpleasant" smell and welcomed news it would be fixed.
"You would jump out of the car and think 'ooh'," she said.
"It was unpleasant but it was never a massive problem because it never came into the building - we just wouldn't open the windows."
A spokeswoman for Cartrefi Cymunedol Gwynedd, whose offices are next to the treatment works, said: "Our offices at Parc Menai have been affected by the issues at the Treborth works for a few years and we have been in discussions with Welsh Water about the matter.
"At times the smell has been quite bad, and we have had complaints from our staff. We welcome this investment by Dŵr Cymru and hope it will improve the situation."