Four-weekly bin collections in Conwy one step closer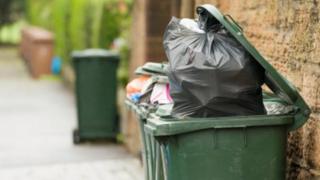 Conwy county could become the first local authority in Wales to collect refuse every four weeks.
On Monday, a council committee recommended the new measures, which will go before the cabinet for approval on 23 February.
Currently, Conwy picks up refuse every two weeks, like most parts of Wales.
Three of Wales' 22 councils have three-weekly collections, but none has yet moved to every four weeks.
Under the proposed changes, Conwy would collect residual waste - which goes to landfill - every four weeks, with food waste and recycling collections remaining weekly.
There would also be a separate collection service for nappies, additional recycling collections at peak periods and extra bins for larger families.