Sonar mapping project highlights sunken ships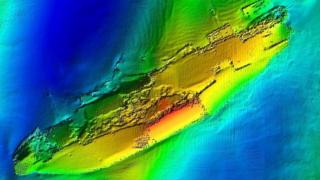 A project to map the seabed using sonar technology has highlighted details of undersea features including shipwrecks around the Welsh coast.
The Bangor University-led Seacams project is mapping hundreds of miles of underwater land.
The work covers the coast off Anglesey and the Llyn peninsula and parts of the south Wales coast.
Some of the wrecks captured by the project date back to World War One.
The scientists behind the project hope the work will help improve understanding of the impact of climate change on the seabed, and how to develop sustainable fisheries and marine renewable energy generation schemes.
The results of the mapping are being superimposed on to Google Earth images to provide context to viewers.
Among the images are the wrecks of the Apapa, a steamer, and SS Derbent, a tanker, which were torpedoed by German U-boats within two days of each other in 1917 on routes in and out of Liverpool.
Dr Michael Roberts from Bangor's Centre for Applied Marine Sciences, said: "Shipwrecks are interesting because as well as being of obvious historical interest, marine scientists can learn a great deal about the response of the sea and seabed to the presence of these structures in terms of water and sediment movement, and the role they play in creating new habitats for marine organisms."