Llandudno FC to borrow Conwy council cash for Euro bid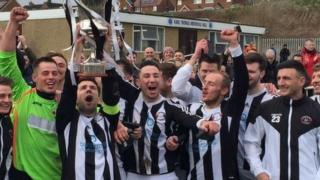 Llandudno football club have been granted an emergency loan from Conwy council to fund their European bid.
The club are waiting for a Uefa £157,496 (200,000 euro) payment after qualifying for the Europa League.
But with the money not due to hit their account until December, the club needed to borrow £30,000.
In return for the interest-free loan, the local authority will feature as sponsors on the club's new away European kit.
The club said costs include flights to Geneva for the draw, medical testing of players, hire of home leg venue, and hospitality of visiting team officials and delegates.
Council officers had recommended the authority approve the request, on condition that, "Llandudno Football Club work with officers from Conwy council to maximise opportunities to promote the area in support of the local economy."
Members voted to approve the loan at a cabinet meeting on Tuesday.
The loan will be repayable as soon as the club receive the Uefa payment.
Llandudno FC are in the first round of Europa League qualifiers due to be drawn in Geneva on 20 June, with the first leg to be played on 30 June and the second on 7 July.
Conwy council's cabinet member for tourism, marketing and leisure, Cllr Graham Rees, said: "Conwy council is extremely proud of the progress the club has made in recent years.
"The media attention this fixture is receiving and the tourism opportunities for Llandudno town and the area in general will possibly attract potential visitors from the UK and Europe."