Permanent site approved for Anglesey travellers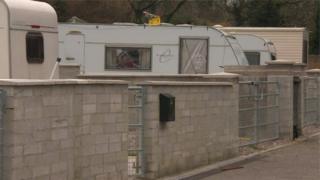 A permanent Gypsy and travellers' site has been approved for Anglesey.
The island's council agreed to relocate four travellers - currently living in a layby between Menai Bridge and Pentraeth - to council-owned land near Penmynydd.
Anglesey council's chief executive, Dr Gwynne Jones, said dealing with traveller sites was a "sensitive and controversial" issue.
The authority will now submit a planning application for the site.
New consultation
An assessment identified that the island needed one permanent residential site and two temporary stopping places - one in the centre of the island and one in the Holyhead area.
None of the temporary stopping places considered during a comprehensive public consultation process earlier this year were considered suitable.
A new consultation on the issue will be launched on 2 June.
The council is legally required to meet accommodation needs of the Gypsy and traveller communities.
Dr Jones said: "Over recent months, we've been working to identify possible sites on the island. Dealing with Gypsy and traveller sites is always going to be a controversial and sensitive issue, but it is one which the county council must address."