Four dogs shot for worrying sheep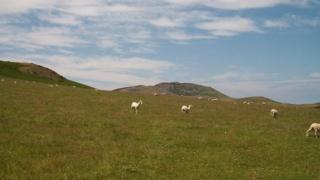 A rural crime officer says he has "had enough" of sheep worrying attacks after four dogs were shot in four days.
Sgt Rob Taylor of North Wales Police's rural crime unit said one dog was shot at Llanrwst at the weekend and three in south Gwynedd on Tuesday.
He told BBC Wales 1,500 sheep had been lost to dogs over the past two years, with "weekly or even daily" attacks.
Over 300 separate incidents have been reported, with up to 30 sheep at a time attacked by one dog.
Police are going to investigate Tuesdays's attacks and shootings, and no further details of it are available.
He tweeted a picture of the dog shot dead in Llanrwst and posted a video talking about his frustrations with the repeated attacks.
Sgt Taylor said it was not just a question of dogs running around and disturbing sheep, adding: "This has been sheep being brutalised and having limbs ripped off."
He believes the rural crime unit, which he said was the only one of its kind in Wales, has given farmers the confidence to come forward and report the crime more readily.
"Now the truth about the extent of the crime is coming out," he said, adding he would imagine it was a similar picture in rural areas across Wales.
Sgt Taylor is making a documentary with farmer Gareth Wyn Jones, from Llanfairfechan, Conwy county, who starred in BBC One's The Hill Farm programme, to highlight concerns.
It will be released at the Royal Welsh Show later in the summer.