Rethink over Anglesey Gypsy temporary sites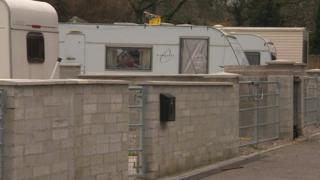 Proposals for a Gypsy and traveller temporary stopping site in Holyhead have been thrown out, but plans for a second site on Anglesey have won council support.
The authority's executive agreed on Monday that locations identified in the port town were not suitable.
But a second site at Star, near Gaerwen, will be examined further.
Two Gypsy temporary transit sites on Anglesey are needed, after new Welsh housing laws came into force last year.
Use of land for temporary stops at Cyttir Road in Holyhead was rejected over concerns about vehicle access in a residential area, next to one of the town's local primary schools.
The potential site at Tyddyn Lantern Farm was also turned down due to its location close to the island's coastal path and concerns for local business.
'Not being heard'
However, the council executive voted to pursue proposals that could see a travellers' temporary site built on a strip of land between the A55 and A5 roads at Llanfairpwll and the Star Crossroads.
But the decision was not without dissent. Aethwy councillor Meirion Jones argued their had been "defects" in the process to identify suitable sites.
"The people of Star and Penmynydd believe that their voices are not being heard and their views are not being taken into account," he added.
But the executive backed officers' recommendations which claimed the Star location "could be planned and delivered within a reasonable timescale".
Technical and safety assessments for the site will now be undertaken, along with the financial implications, before planning permission is requested.
There are currently no sites for Gypsies or travellers on Anglesey, though a permanent location was identified at Penhesgyn, near Penmynydd, earlier this year.