Concern over temporary Gypsy traveller site on Anglesey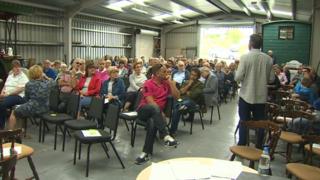 About 150 people attended a meeting on Sunday to raise concerns about a proposed temporary Gypsy traveller site on Anglesey.
Sites at Cyttir Road and Tyddyn Lantern Farm in Holyhead were turned down by Anglesey council earlier this month.
The council is now considering a strip of land between between Llanfairpwll and Star Crossroads.
But local residents say it is a "high risk" area next to the busy A55 and A5 roads.
There are currently no sites for Gypsies or travellers on Anglesey, though a permanent location was identified at Penhesgyn, near Penmynydd, earlier this year.
Two Gypsy temporary transit sites on Anglesey are needed after new Welsh housing laws came into force last year.
Mark Inwood from Star chaired the meeting on Sunday.
He asked: "Why put a temporary Gypsy traveller site in a high risk area?"
He said the proposed site is "high risk not just to the Gypsy travellers but also for the travelling public and the residents of the island."
Mr Inwood has accused Anglesey council of trying to rush the plans through.
"The consultation started on 1 June and here we are today, and the decision is being made by the council to progress the site here," he said.
"We've got no visibility of how it's going to be controlled or monitored and there is some debate about the duration of the site - is it 14 days or 28 days?"
'Major obstacle'
Local Cllr Alun Wyn Mummery said: "Whichever site they look at I think you'll find there will be local objections to it, and I think this is a major obstacle in finding a suitable site."
Anglesey council officers said the site "could be planned and delivered within a reasonable timescale."
They will now carry out technical and safety assessments and consider the financial implications before requesting planning permission.