Dystonia: 'Lack of help' for neurological problem in Wales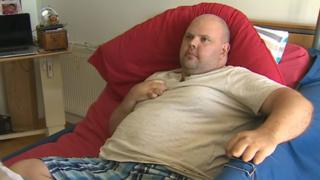 There is little help for people with the neurological movement disorder dystonia, a man with the condition has said.
Dylan Fon Thomas, 36, from Chwilog, Gwynedd, was diagnosed in 2013 and suffers spasms - sometimes lasting up to five hours.
He said facilities for younger people were "almost non-existent".
The Welsh Government said the Dystonia Society's manifesto would be discussed in September.
Mr Thomas said there was a lack of awareness of dystonia and there are concerns people from Wales often have to travel to England for treatment.
The problem has left him unable to use his right arm and he was also bed-bound for a period of time.
He told BBC Wales' Newyddion 9: "I started getting attacks called dystonic storms.
"They became brutal in the way they behaved and the way my muscles would contract. It was a painful experience."
Dr Gwyn Williams, chairman of trustees of the charity Dystonia Dwyfor - which was set up to help sufferers in north west Wales - said: "There's not been much help for Dylan in Wales.
"The experts he's seen have been in London and Liverpool. It's a concern that there's not more available here in Wales."
A Welsh Government spokesman said it was "important that people with dystonia have access to the right care and treatment, at the right time and in the right setting, no matter where in Wales they might live.
"Sometimes, it is necessary for people to travel outside of Wales to access the level of specialist care they need."
Dystonia
A number of different types which affect people in varying ways
Affects about 3,500 people in Wales
Incorrect signals from the brain cause uncontrollable and sometimes painful muscle spasms
No cure
Can be managed with pain control and "sensory tricks"
Source: The Dystonia Society