Museum to help trace Gwydir Castle's missing room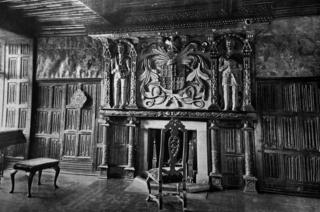 One of Britain's top museums could help locate a missing room from a 16th Century mansion in Conwy county.
The new director of the Victoria and Albert Museum in London said he was willing to help owners of historic houses trace lost artefacts after they were sold to wealthy Americans.
The Oak Parlour of Gwydir Castle, near Llanrwst, was shipped to New York but has not been seen since the 1930s.
Tristram Hunt said the museum "stands ready" to locate missing heritage.
It follows calls by leading historians to find and buy back art and furniture, some of which may have never left storage.
During the first half of the 20th Century there were fewer greater signs of sophistication than for Americans to buy British Elizabethan art, or even entire rooms, to decorate their mansions and town houses.
Among the first locations the museum hopes to investigate are the warehouses used to store the Hearst collection.
William Randolph Hearst, a newspaper publisher, was one of the most prolific art collectors in US history.
It was he who bought the wooden panelling, ceiling beams and fireplace from Gwydir Castle's Oak Parlour in 1921.
Hearst only ever showed a fraction of the art and interiors he acquired and, at least according to rumour, much is still sealed.
Mr Hunt is hoping a call by historian John Harris and Sir Roy Strong, the former director Victoria and Albert Museum, could lead to the vaults being opened.
"This could turn out to be fascinating, and we would love to know what might still be hidden in Hearst's Xanadu," Mr Hunt said.
When he backed the call to help locate missing heritage, Mr Hunt was told antiques in his museum's own collection were originally from Gwydir Castle.
A pair of andirons were sold at auction in 1921 and are currently in storage.
Peter Welford, who owns Gwydir Castle with his wife Judy Corbett, said it would be "wonderful to have the opportunity to get them back".
Mr Welford said looking for the Oak Parlour "had been a 20 year quest and it's wonderful to have offers of support like this from national museums".
"But it is interesting that there are smaller objects all over museums which are basically in storage and are never seen," he said.