Conwy civic hall for sale as council fails to attract bids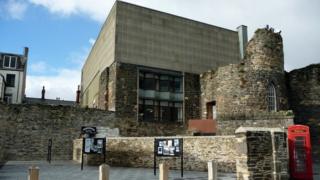 Conwy council has failed to secure any bidders to run the town's Grade II-listed civic hall despite a "long marketing process".
The local authority now want to sell the former town hall on the open market.
A community interest company (CIC) has formed to raise £7m to turn the hall's 240-seat theatre into an arts venue.
They said it would be a "tragedy" if the building were sold to a private developer.
Mark Pavey, spokesman for the Last Bastion CIC, said its current value was "negligible".
"The cost of fixing it is more than the value of the building. It has got a beautiful purpose-built theatre. It is a community asset," he said.
In July 2015, Conwy council decided to run a competitive tendering process to dispose of the hall and part of the quay.
A number of expressions of interest were received, but no formal bids were submitted by the 16 January deadline.
The hall, which has been empty since 2014, is now up for sale. The section of quay will be offered on a short-term lease.
Mr Pavey said the Welsh Government's community asset transfer scheme and the Heritage Lottery Fund (HLF) had expressed support for his bid.
He criticised the tender process as "hasty" and said it did not properly factor in "community interests."
"It's been a publicly maintained asset since it was built. We want a fair chance to develop the building," he added.
'Community asset'
The original hall was built at the end of the 19th Century, but burned down in 1966.
It was rebuilt with a concrete theatre on top of its original remaining walls and currently houses the town's library, which is being moved to the proposed new Conwy culture centre.
The upper floor theatre was used by local groups until 2014, when the council deemed it "unfit for use". Last year, it was placed on the Theatre Trust's 'at risk' register.
In 2013, a community interest group - Ciwb Conwy Cube - created a proposal to take over the venue, which was rejected by the council.