£900,000 Lottery grant for new Conwy culture centre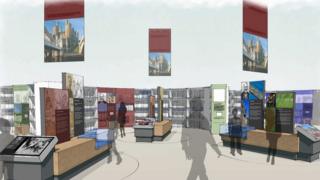 A new culture centre will be built in Conwy following a £900,000 grant from the Heritage Lottery Fund.
The £3m building, located just outside Conwy town walls, will house the town's library, a heritage and arts hub and archive.
The centre's design will be "sympathetic" to the town's history, the local authority said.
It will also be funded by £1.5m capital funding and the sale of council buildings.
The council needs to find funding for the outstanding amount and once this has been confirmed, construction will then go out to tender.
The council has already been awarded a £75,100 lottery development grant for the centre, which was given planning permission in February.
Conwy's archive and museum collections house 80,000 catalogued documents and nearly 1,000 objects.
Councillor Chris Hughes, Conwy's Cabinet Member for Communities, said the centre would help develop the town's "heritage offer".
Richard Bellamy, head of the Heritage Lottery Fund in Wales, added: "Our historic archives are a valuable tool and making them more accessible will help people connect with their community's past.
"To do that under the same roof as other key facilities like a new library will benefit everyday lives and help make Conwy a better place in which to live and work."