Bala council votes against new prison wing name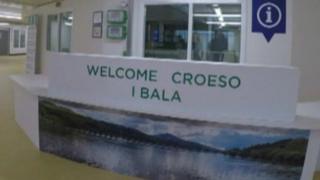 Councillors have voted unanimously against naming a wing at the UK's newest prison after their Gwynedd town.
HMP Berwyn, which opened in Wrexham at the end of February, will eventually hold 2,100 prisoners
The Ministry of Justice said prison staff chose to call the first wing there Bala.
But a special meeting of Bala Town Council on Monday evening decided to support efforts to get the name changed.
Nearly 400 people have signed a paper and online petition.
The council said it had not been consulted about the name, which is on display at the reception desk with a sign reading: "Welcome Croeso i Bala" - and includes a picture of the lake, Llyn Tegid.
Campaigners hope to set up a meeting with HMP Berwyn warden Russ Trent in the next few weeks.