Bangor University £1m health and exercise labs to open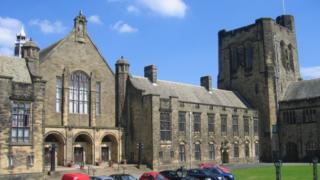 New laboratories for health, exercise and rehabilitation research will open at Bangor University on Tuesday.
The university has invested £1m in the Physical Activity for Health and Well-Being Centre, based at the School of Sport Health and Exercise Sciences.
It includes two exercise physiology labs, which look at the functioning of the human body, and a teaching lab.
Together they will address the range of health benefits from exercise and physical activity.
Researchers and students will be demonstrating their work to mark the opening.
Among them is Dr Jamie Macdonald, a senior lecturer in clinical exercise physiology and outdoor activities. He will be showing an exercise bike which has been specifically designed to be used in a blood purification unit.
Patients with stage five chronic kidney disease require regular treatment in which they are connected to an artificial kidney to remove waste products and excess fluid from their bodies.
This treatment takes place three times a week for about four hours.
Dr Macdonald said: "During the treatment the patient has to sit on a chair, but the newly designed exercise bike allows the patient to exercise during their treatment, increasing their physical activity and potentially improving their quality of life."
Bangor University has close links with Betsi Cadwaladr University Health Board, contributing to its research.
Dr Peter Higson, chairman of the health board, said the new labs will "enable this collaboration to better address specific health and wellbeing challenges facing both the Welsh and global population".