Porthmadog charity shop nuclear sub plans sold at auction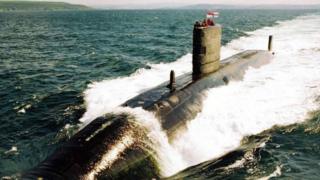 Nuclear submarine plans found hidden in a charity shop suitcase have been bought by a former officer's wife.
Staff at a Barnardo's store in Porthmadog, Gwynedd, were amazed to discover the document showing details of the former £200m HMS Trafalgar.
The plans, hidden in the lining of a suitcase, attracted interest from America and Germany.
They were bought at silent auction for £320.
Tara Burke bought the plans for her husband, who worked as an officer on the vessel for 25 years.
Charity store staff say the suitcase was donated anonymously and filled with books.
But hidden in the lining of the luggage was the impressive 6ft (1.8m) drawings of the former Royal Navy vessel.
The Plymouth-based submarine was decommissioned in 2009.