Officer sprayed in eyes by fire extinguisher, court hears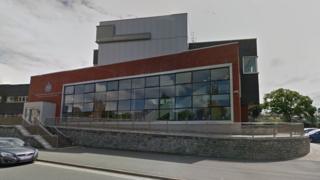 A man who sprayed a fire extinguisher in a police sergeant's eyes and grabbed him by the throat has been jailed.
The incident happened at Pendinas Hostel in Bangor, Gwynedd, on 29 April.
Mathew Williams, 26, was sentenced to 16 weeks at Caernarfon Magistrates' after admitting assaulting Sergeant Douglas Hughes and actual bodily harm.
He also admitted using violence to get into the hostel and criminal damage to garden benches, three windows, the fire extinguisher and a door.
The court heard Williams lived at the hostel after being released from jail but was refused entry on the night because he had been drinking.
He then took off his shirt, punched a window and turned over benches before police were called.
After officers arrived, Williams resisted arrest and pepper spray was used when he grabbed Sgt Hughes by the throat.
Andrew Scott defending said he was ashamed of his actions and believed his drink was "spiked".
Williams must also pay £300 compensation to the officer and £250 to the hostel owner for damages.