Company running Bangor University's 'Food Dudes' in liquidation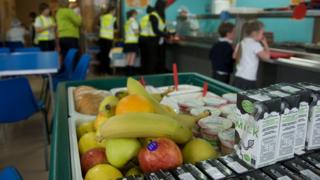 A company which ran a healthy eating project for children is in liquidation with estimated debts of £1.2m.
Food Dudes, created by Bangor University after 25 years of research, featured superheroes who gained special powers by eating fruit and veg.
It has been credited with helping more than 700,000 schoolchildren across the UK, Europe and the United States.
The liquidation of Food Dudes Health Limited is expected to be concluded in the next three months.
The Food Dudes scheme - which included DVDs featuring the superheroes - was developed following research by Bangor University psychologists and was rolled out to schools in the early 2000s.
In Ireland, it was introduced in all primary schools.
'Grub men'
In 2012, the running of the project was transferred to Food Dudes Health Limited, although its board included Bangor University academics.
That company went into liquidation in 2015, and the liquidation process is nearly complete.
Among the list of creditors are public health bodies and councils in England, which are owed more than £800,000, and Bangor University itself, which is owed more than £200,000.
Liquidator Ian Brown, of Liverpool-based Parkin S Booth & Co, said: "On 17 March 2016, the company's intellectual property rights were sold to Bangor University for the sum of £20,000.
"Part of the sale included the rights to the name Food Dudes Health and hence a change of name to Grub Men Ltd was registered on 3 May 2016."
A statement from Bangor University said the company had reported an audited profit in each of its first two years (to July 2014), which was re-invested through further research and development work and marketing of the Food Dudes programme.
It said: "Future sales projections continued to be reported as positive throughout the period, and healthy/growing cash balances were also evident during this period.
"Due to public sector funding cuts, co-incident with the re-organisation of local authority and NHS service structures, the order book failed to be realised as planned in 2014/15, with income then drying up but costs steady or increasing.
"During this period the chairman and founder also unexpectedly passed away.
"The governance structure was based on a board consisting of the two academic founders, one university-nominated non-executive along with the external recruitment of a managing director and finance director; the managing director being supported by other technical, operational, administrative and sales staff."