Dinghy couple rescued off Llyn Peninsula had no mobile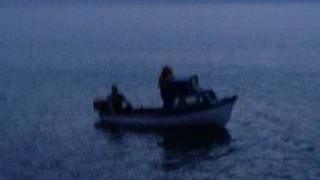 A couple have been rescued from a dinghy off the Llyn Peninsula after becoming stranded without a phone.
Holyhead Coastguard said the married couple, who were rescued on Sunday night, had set off without a mobile phone, radio or flares and had only one lifejacket between them.
They were spotted by a man walking along the shoreline in Pistyll, Gwynedd, just before 21:00 BST.
The man was treated for hypothermia and dehydration.
They had been attempting to row back to shore for five hours.
A spokesman for Holyhead Coastguard they were very lucky to have been spotted by the walker: "If it hadn't been for him it could have been a very different story," he said.
He said they became stranded after their dinghy was swamped by a wave which stopped the engine.
They tried to restart it by pulling the cord but the cord snapped, he added.
He said: "No matter how short the trip people should always take the right equipment."