Anglesey cat Oreo caught in illegal trap has paw amputated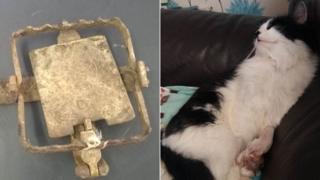 A cat has had to have his paw amputated after it was caught in an illegal trap, the RSPCA has said.
The pet, named Oreo, was found in Rhostrehwfa, near Llangefni on Anglesey after he managed to drag himself to a local house.
The metal spring-operated device is used to catch animals, but while it is legal to own, it is illegal to set.
A neighbour freed Oreo using bolt cutters and he was taken to a vet but his paw could not be saved.
The RSPCA has appealed for information about the trap being set.
Inspector Mark Roberts said: "We're sure somebody in the local area will know something about this sorry incident."