Woman dies in accident at Blue Lake beauty spot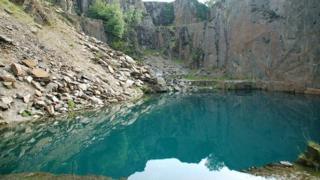 A woman from Staffordshire has died at a lake in Gwynedd, police have said.
The incident, which happened at Blue Lake quarry, at Friog near Fairbourne, on Wednesday, is being treated as an accident.
North Wales Police said a file was now being prepared for the coroner.
"Our early investigations have shown the lake is not a safe location to swim or jump into the water and our advice at this time is to stay away," said Sgt Helen Gallop.