Coastguard rescue man after Abersoch frisbee mishap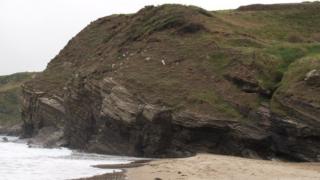 A man who became "well and truly stuck" after climbing a cliff to retrieve a frisbee had to be winched to safety in Gwynedd on Monday.
A coastguard rescue helicopter from Caernarfon was called to the scene at Porth Ceiriad, Abersoch at about 15:00 BST.
A Holyhead coastguard spokeswoman said the man had climbed up about 30ft (9m) to get the frisbee when he got stuck.
She said he was winched to the safety of the beach "a little embarrassed".
North Wales Police and the Abersoch rescue team also attended the rescue.