Minister 'minded to' allow 336 new Bangor homes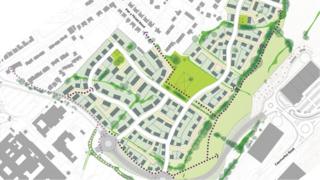 Controversial plans to build 366 news homes in Gwynedd could go through after the rural affairs secretary said she was "minded to" allow the development.
Developer Morbaine wants to build the houses at Pen y Ffridd in Penrhosgarnedd, Bangor.
Gwynedd councillors rejected the plan over fears it could impact on the Welsh language, traffic and schools.
But Lesley Griffiths has written to the developer, saying she was minded to allow an appeal.
Welsh language campaigners, Cymdeithas yr Iaith, called it a "disgrace" and said Ms Griffiths was failing to "consider the language in a planning matter".
The Welsh Government, in a statement, said: "The cabinet secretary has written to the applicant advising she is minded to allow the appeal but subject to further information relating to the Unilateral Undertaking.
"This letter does not constitute a decision. Once the information is received the cabinet secretary will then issue a decision letter."