Tributes paid to Jacky Owen, 49, after scooter death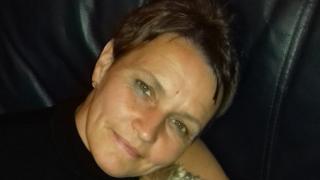 A woman killed when her scooter was involved in a crash with a lorry has been named as Jacky Owen.
The 49-year-old, from Stoke-on-Trent, died at the scene on the A487 on the outskirts of Porthmadog in Gwynedd just before 14:15 BST on Sunday.
Her family said she "was the most loving, caring person you could ever meet with a heart of gold".
"To her family she was a loving wife, mother, daughter, sister and doting grandmother," their statement said.
"She was a devoted carer and would volunteer at a multiple abilities club who support vulnerable adults.
"When not working she enjoyed music, scooters and helping people. She was very well respected in the scooter community in Stoke.
"She hails from a family of bikers and had been riding scooters for the last four years."