NRW project to remove giant hogweed along Afon Soch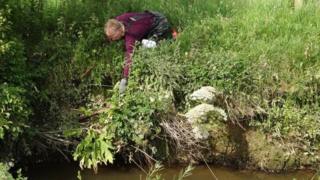 A three-year project to get rid of giant hogweed along a stretch of river on the Llyn Peninsula is under way.
The plant will be removed from more than one-and-a-half miles (2.4km) along Afon Soch.
Natural Resources Wales (NRW) said the invasive plant can cause skin to blister by making it sensitive to sunlight.
It said the plant also "displaces native plants", which can cause river banks to erode and increase flood risk.
Originally from Southern Russia and Georgia, giant hogweed was first introduced into the UK in the 19th Century as an ornamental plant.
It can spread at an alarming rate, reaching more than 3m (9.8ft) in height.
Bev Dyer, NRW environment officer in north west Wales, said: "By working with local farmers and using a specialist team due to the plant's risk to human health, we aim to eradicate this invasive, non-native plant from the Soch.
"The Afon Soch does not currently meet European standards in terms of water quality. We look forward to seeing the situation improve so that wildlife can thrive and people can enjoy and benefit from our well managed river environments."