Cow shot in face with dart in Llanfairpwll, Anglesey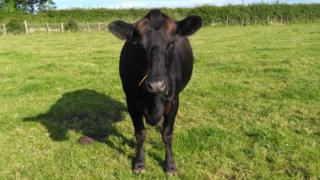 A cow has been injured after being shot in the face with a dart on Anglesey.
The incident happened in the Llanfairpwll area on Thursday.
Police said the cow was "ok" and the recovered dart would be tested for DNA evidence in the hope of tracing the attacker.
Sgt Rob Taylor, of North Wales Police's rural crime team, described it as a "shocking crime" and urged people with information to identify those responsible.
He tweeted: "At what point does a person think 'I'll shoot a cow in the face with my crossbow today'... this person needs catching and catching soon."
"Once we've recovered DNA from the bolt, it's then time for the offender to wonder who it is, every time their door bell goes".