Gardeners encouraged to feed bees at Plas Newydd, Anglesey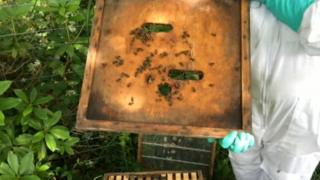 Gardeners are being shown how to feed bees in Anglesey in a bid to save them from extinction.
A week-long event at Plas Newydd gardens will highlight the importance of hives to the ecosystem.
Keeper Katie Hayward from Felin Honey Bees said the species "could become extinct in my lifetime".
Ms Hayward said people could put sugar water and plant lavender in their gardens to feed bees.
The event is the first bee week run the National Trust gardens, which has hives full of native honeybees.
A glass hive will be on show to offer the chance to see up close how bees go about producing honey and beeswax.
Ms Hayward said bees were "vital to everything we do" and she hoped the week would encourage people to do their bit to help stop bees from dying out.