Record profits for dairy South Caernarfon Creameries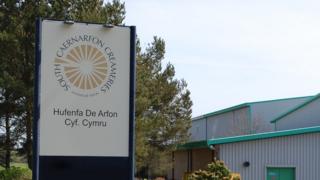 A north Wales dairy co-operative says it made a record £3m profit in the last year - up from just under £400,000.
South Caernarfon Creameries said the result saw sales of £33.1m over 2016-17, compared to £31.7m in 2015-16.
The company produces a range of cheese and butter products at its Chwilog base, near Pwllheli, where it employs about 130 people.
The firm said the 127 farmers who part-own the operation will receive £3,750 in additional shares.
"The results for the period are very pleasing and is a reflection of the progress the co-operative has made across all of its activities in recent years," said managing director, Alan Wyn Jones.
"The focus now is very much in ensuring that our improved performance is sustained in the longer term for the benefit of all of our farmer owners and staff."
The dairy said the annual results reflected improvements in sales, and an increase in the dairy commodity markets during the second half of the year.