Caernarfon waterfront to get £3.5m lottery funding revamp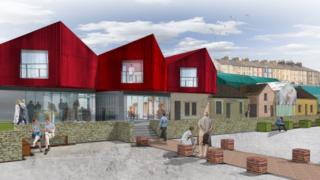 One of Wales' oldest ports is to be restored to its former glory with £3.5m of lottery funding.
Caernarfon waterfront in Gwynedd has been a centre for shipping since pre-Roman times, dispatching slate, iron and timber to Europe and beyond.
But since the decline of heavy industry, the area is not used and has fallen into disrepair.
It will now be redeveloped as workshops for local artisan crafts, tourist attractions and accommodation.
Heritage Lottery Funding chairman Sir Peter Luff said: "Not only do heritage projects like this one at Caernarfon create jobs, support skills and boost the local economy, but they also make a lasting difference to people's lives by creating new economic strongholds.
"The heritage assets of communities, then, are as directly relevant to people today as they were to their predecessors a hundred or more years ago."
First recorded as Segontium when a Roman fort was founded there circa 77 AD, it is thought that Caernarfon had already been a major Celtic trading post for some centuries before.
It played a major part in the Anglo-Norman struggle for supremacy over Wales, culminating in Edward I's conquest in 1283.
He began the construction of Caernarfon Castle, overlooking the quay, shortly afterwards.
Harbour Trust chairman Ioan Thomas said: "We are delighted that the Heritage Lottery Fund has recognised the exciting potential of the development.
"Bringing these abandoned buildings back into life will not only create jobs and enhance the local economy by providing an additional attraction for residents and visitors, it will help secure the future of Caernarfon's historic waterfront and town centre."
The walls around Caernarfon are already a UNESCO World Heritage Site.
The investment is part of a £15m EU-funded project, which also includes development of a new station for the Welsh Highland Railway, and improvement of pedestrian and traffic links within the town centre.