Search for mother of newborn baby found in Towyn continues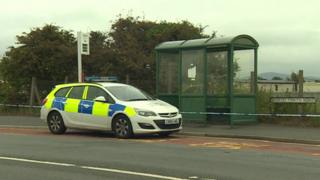 Police are continuing their search for the mother of a newborn girl found in a bus shelter in north Wales.
The baby was found at the bus stop near the Magpie and Stump pub in Towyn, Conwy county, at 07:15 BST on Tuesday.
Daniel Braxton, 35, who discovered the infant, has told how she was lifeless at the time but he managed to revive her.
Police are concerned about the welfare of the baby's mother and have urged her to come forward.
Conwy council said the baby had been placed under an interim care order.
Helen Douglas, of North Wales Police, said: "If anyone knows who the mother is or can provide any information which may assist in identifying her please contact North Wales Police.
"We want to ensure that the mother is provided with the medical support she needs."