Holidaymaker fined for Cerrigydrudion fatal motorcycle crash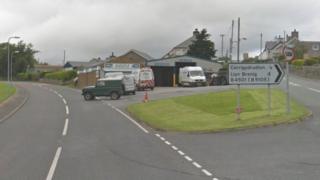 A German holidaymaker has been fined £1,000 after causing a crash which killed a motorcyclist in Conwy county.
Hospital radiographer Aidan McNicholl, 36, died following the collision on the A5 at Cerrigydrudion on Sunday.
Andreas Werner, 46, of Leipzig, failed to spot the motorcyclist as he turned his VW Transporter right causing the fatal crash.
The father-of-four pleaded guilty to causing death by careless driving at Llandudno Magistrates' Court.
He was fined £1,000 and also banned from driving in the UK for two years.
Prosecutor Sarah Marsh told the court the victim's family saw no value in Werner, who was staying in a cottage with his family near Bala, being sent to jail.
She said: "They accept it was a momentary lapse and nothing will bring him back."
Craig Hutchinson, defending, said Werner was remorseful and could offer no explanation for the crash.