Koenigsegg One:1 supercar pulled over by police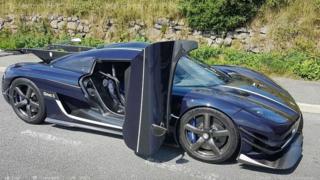 A motorist in one of the world's fastest and most expensive road cars was pulled over by police for having no number plate.
North Wales Police's road unit posted on Facebook: "Even if your car is worth well in excess of a million pounds you still need a number plate like everybody else."
The Swedish-made Koenigsegg One:1 model was stopped on the A55 on Anglesey.
There are just seven models of the car in the world, including one prototype.
Versions can drive at 439 km/h (273 mph) and cost millions of pounds.