Wrexham cowboy builder Edward Delaney jailed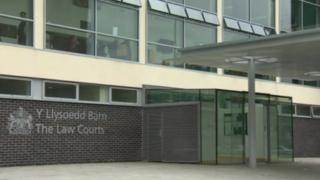 A builder who bullied a vulnerable man into having pointless work on his house in Wrexham before he died has been jailed.
Peter Hare, 60, from Gwersyllt, insisted he did not want his windows painting, but returned home to find the work had started and a demand for £850.
Edward Delaney, 49, of Wrexham, was jailed for 14 months after pleading guilty to fraud.
Judge Niclas Parry said his victim had become frightened to open his door.
Mr Hare, who suffered from severe mental health problems, was repeatedly harassed by Delaney and others in the months before he died, Mold Crown Court heard.
Judge Parry said: "He repeatedly did his best to tell you no but you ignored him. He repeatedly told you not to visit his home but you did.
"To put pressure on him, you started work at his property when he was in town. Eventually when he asked how much it would cost, you asked him for three times what would have been reasonable - and in cash."
'Hazy memory'
The court heard how Delaney asked his victim for £850 for the work in November 2015, which was useless and the windows were beyond repair.
When Mr Hare only paid £600 the builder returned to make sure he paid the rest.
He added: "He became so fearful that he would not even open the door to his mental health worker."
Andrew Green, defending, said Delaney was an alcoholic who had been drinking a lot of the time and his memory was hazy.
He said he was saddened to hear Mr Hare had died in 2016.
Delaney was also made subject to a criminal behaviour banning him from cold calling.