Posthumous Eisteddfod Gorsedd honour for Irfon Williams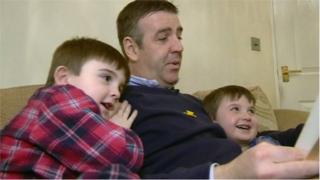 A cancer campaigner who died in May has been posthumously inducted into the Gorsedd at the National Eisteddfod.
Father-of-five Irfon Williams moved to England to receive the drug Cetuximab to treat his bowel cancer.
A medical review of the drug followed a campaign by Mr Williams, from Bangor, and it is now available in Wales.
Despite initial treatment success, Mr Williams was told the disease had spread to his lungs and other parts of the body and could no longer be cured.
He died in May.
There was a standing ovation in the dance pavilion at the Eisteddfod on Anglesey when Mr Williams' wife, Becky, received the honour on her late husband's behalf.
His bardic name is Irfon o'r Hirael.