Rogue apostrophes in Colwyn Bay inscribed paving stones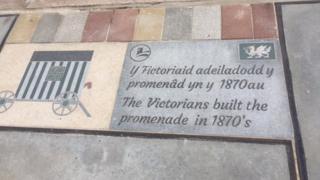 People strolling along a recently reopened promenade in Conwy county have spotted grammatical errors inscribed in the paving stones.
Colwyn Bay seafront underwent a multi-million pound redevelopment, but slabs highlighting the town's history refer to the "1870's" and "1900's - 1950's".
There should not be any apostrophes.
A Conwy council spokesman said: "The information has been shared with the Waterfront Project Team, and they are looking into it."
Last week, a European flag etched into a paving slab on the promenade sparked accusations of EU propaganda.
A council spokesman said at the time that in accepting EU funds for the project, it had an obligation to acknowledge that fact.