France crash bus firm Express Motors to lose licence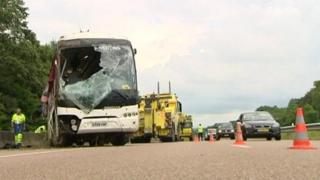 A Gwynedd coach firm which was involved in a crash in France last year, leaving 15 young people injured, will lose its licence over an unrelated issue.
Penygroes-based Express Motors will have its licence revoked on 31 December after an investigation found maintenance records had been falsified.
The Driver and Vehicle Standards Agency launched the probe after drivers' hours were compared with maintenance records.
Wales Traffic Commissioner Nick Jones said he would revoke the licence.
Express Motors director Ian Wyn Jones was also disqualified from holding or applying for an operator's licence for 12 months for falsifying maintenance records.
Transport manager Kevin Wyn Jones was also banned from holding or applying for a similar position until he takes a specialist course.
Mr Jones said if the family business was to continue, a new entity needed to take over the registered services currently run by the partnership.
A Gwynedd council spokesperson said the authority would meet with Express Motors to discuss the public transport it currently operates in the county.
Meanwhile, the crash on a motorway in France on 23 July 2016 is still being investigated by French Police.
Two pupils from Bournside School in Cheltenham were seriously injured, and more than a dozen others were hurt.
Driver Melvyn Lane was suspended earlier this year after he admitted taking less than the compulsory nine hours of rest time before driving.