Snowdon summit tops Britain's most trodden list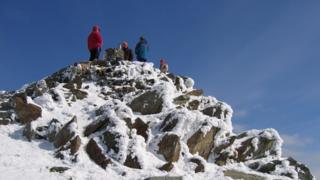 Snowdon's summit has topped a list of most popular areas for walkers, cyclists and runners in Britain.
Ordnance Survey (OS) said 3,779 of the almost 400,000 routes downloaded by its subscribers in the past year passed through the peak.
The mountain's Pyg track and Pen y Pass also made the top 20, coming seventh and 12th respectively. Pen y Fan in the Brecon Beacons, Powys was number 11.
The Lake District and Peak District took 16 of the top 20 spots.
The national mapping agency compiled the list by dividing Britain into square kilometres and counting the number of downloaded routes that passed through each square.
The top 20
1 Snowdon's summit, Gwynedd - 3,779 downloads
2 Edale, Peak District, Derbyshire - 3,590 downloads
3 Scafell Pike's summit, Lake District, Cumbria - 3,007 downloads
4 Edale Cross, Peak District, Derbyshire - 2,636 downloads
5 Edale's Jacob's Ladder, Peak District, Derbyshire - 2,632 downloads
6 Ambleside, Lake District, Cumbria - 2,587 downloads
7 Snowdon's Pyg track, Gwynedd - 2,581 downloads
8 Edale's Mam Tor, Peak District, Derbyshire - 2,529 downloads
9 Edale's Hollins Cross, Peak District, Derbyshire - 2,492 downloads
10 Edale, Peak District, Derbyshire - 2,452 downloads
11 Pen y Fan, Brecon Beacons, Powys - 2,404 downloads
12 Snowdon's Pen y Pass, Gwynedd - 2,377 downloads
13 Langdale Fell's Cumbria Way, Lake District, Cumbria - 2,359 downloads
14 Great End's Scafell Pike, Lake District, Cumbria - 2,342 downloads
15 Grasmere's centre, Lake District, Cumbria - 2,311 downloads
16 Edale's Upper Booth, Peak District, Derbyshire - 2,298 downloads
17 Edale's Cold Side, Peak District, Derbyshire -2,288 downloads
18 Allen Crags' Scafell Pike, Lake District, Cumbria - 2,278 downloads
19 Helvellyn's summit, Lake District, Cumbria - 2,271 downloads
20 Keswick, Lake District, Cumbria - 2,244 downloads