Betsi Cadwaladr apology over woman's end-of-life care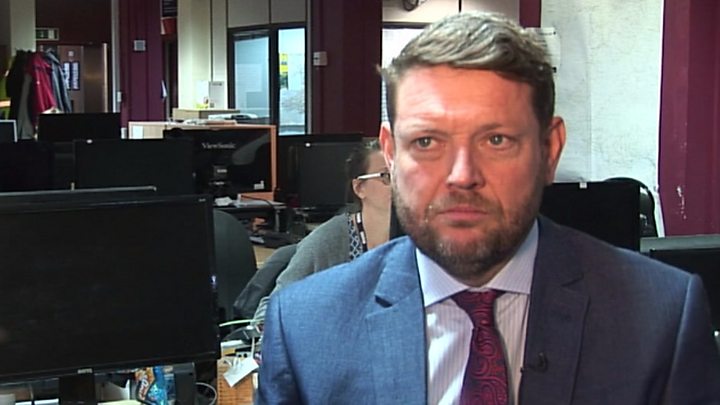 A woman's end-of-life care has been heavily criticised after she died on a hospital trolley following an "unnecessary" transfer.
Betsi Cadwaladr health board staff agreed the woman should receive palliative care after she went to Ysbyty Gwynedd in Bangor in 2015.
But she was twice moved between hospitals for a "needless" CT scan.
Wales' Public Services Ombudsman said it was "detrimental to her wellbeing" and the health board has apologised.
Ombudsman Nick Bennett upheld complaints made by the son of the woman - referred to as Mrs X - about her clinical care and the "unacceptable" 17 months it took for the board to investigate.
Mrs X, who was "very ill", was taken to Ysbyty Gwynedd on 20 February 2015 before being moved to Llandudno General Hospital, 22 miles (35km), away in Conwy the next day.
There a doctor explained, due to her "fragility and history of cancer", she should receive only "supportive care".
However, on 24 February, after a suspected stroke, she was transferred back to Ysbyty Gwynedd for a CT scan.
The ombudsman's report said it never took place, with medics agreeing it would not change her care, and she was returned to Llandudno.
On 4 March 2015, Mrs X was then "urgently admitted" back to the Ysbyty Gwynedd for another scheduled scan.
On arrival, there were no ward beds available and she remained on a trolley in the corridor, according to the report.
She was later moved to a side room after her breathing deteriorated but she died on the trolley.
"Her dignity at the end of her life was not respected and she did not have sufficiently considerate care in her final days," the ombudsman said in his report.
"The decisions to transfer her for scans, which would not have changed the approach to her care, failed to take account of her needs as an individual.
"They failed also to take account of Mrs X and her family's wider needs as part of family life."
Mrs X's son, referred to as Mr Y, said his mother and the family were "put through totally unnecessary trauma in the weeks before her death".
The ombudsman ordered the health board to pay Mr Y £1,500 for the distress caused by the clinical failures and the time it took to look into his complaint, made on 22 March 2015.
He also ordered Betsi Cadwaladr to review and audit the necessary departments and consider further end-of-life training for staff.
Llyr Gruffydd, Plaid Cymru's North Wales AM, said these kinds of cases were "rare" but "unacceptable".
Gill Harris, executive director of nursing and midwifery at Betsi Cadwaladr, said: "We are deeply sorry for the additional anxiety and distress that we caused to the patient and their family at the end of their loved-one's life."
Alongside the clinical care, Ms Harris apologised on behalf of the health board for the delay in responding to the family's complaint and said it was "working hard" to improve its concerns process.
"We accept all of the ombudsman's comments and recommendations and will ensure that these are addressed as part of our ongoing work to improve services," she added.