£4.5m boost for Anglesey tidal energy development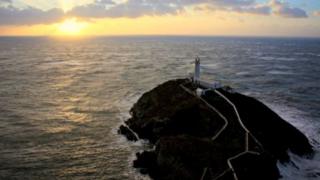 The Welsh Government has announced £4.5m in funding for marine and tidal energy development in north Wales.
The money - £4.2m from the EU and £300,000 from the Welsh Government - will support work on the Morlais tidal energy demonstration zone off the coast of Anglesey.
Economy Secretary Ken Skates said tidal energy can play a "major role" in delivering a Welsh low carbon economy.
Menter Mon, which manages the project, said it was "very good news".
Announcing the funding in Cardiff, Mr Skates said the Welsh Government was "committed to supporting the creation of new tidal demonstration zones that will help industry develop new tidal and wave technologies for commercial success".
"Over the next five to 10 years we have a real window of opportunity to develop and grow Wales' marine energy industry. This funding will provide yet another push to drive our ambitions forward," he added.
Menter Mon's Gerallt Llewelyn Jones said: "This is very good news. Menter Mon has worked hard to achieve this important milestone for Anglesey and north Wales.
"It is critical that we position ourselves at the centre of global developments in marine renewable energy, a known growth sector with substantial employment potential."