Third Menai Strait bridge 'could be built by 2021'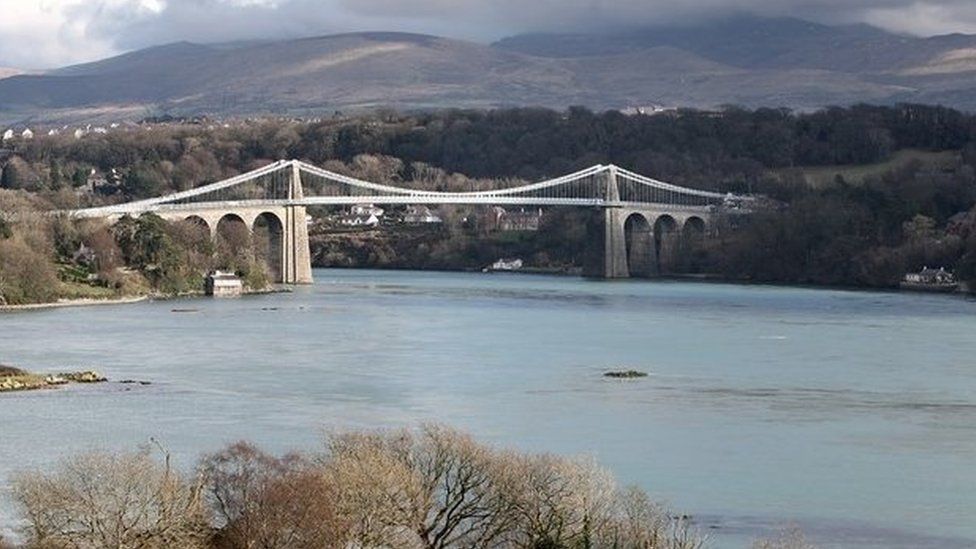 A new £135m bridge across the Menai Strait could be open within four years, according to the Welsh Government.
Plans for the new crossing are being drawn up and aim to alleviate traffic on the two current bridges.
A contractor undertaking an assessment said the new bridge would "respect the old ones" but "have its own character".
The Welsh Government said it could be built in two years and be open as soon as 2021.
The crossing would have wind protection to avoid road closures during stormy weather.
There are currently two Menai Strait crossings - the Menai Bridge, which was built by Thomas Telford in the 1820s, and Robert Stephenson's Britannia Bridge, which was opened to carry rail traffic in 1850 but was rebuilt in the 20th Century to also carry road traffic.
Plans for a third crossing have been in the works since a consultation in 2007.
Dewi Williams, Anglesey council's head of highways, said: "We have been here 10 years ago. It would be nice to think that something positive happens this time.
"The problem we have is that with high winds or an accident on the [Britannia] bridge it has to be closed."
But Gwyn Morris Jones, ex-secretary of Ynys Mon Campaign for the Protection of Rural Wales, said a new bridge was not necessary.
"I have never been held up more than 10 minutes on this bridge and many of those who have been are used to holds-ups, because they come from large cities," he said.
A public consultation is planned for early 2018 with a preferred route announcement in May.
Related Internet Links
The BBC is not responsible for the content of external sites.