HGV safety call after Abergele ex-police officer death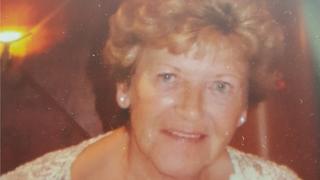 A retired police officer died after stepping into the path of a heavy goods vehicle near her home in Conwy county, an inquest has heard.
Hilda Blythin, 69, suffered fatal injuries in Abergele on 2 March.
The inquest in Ruthin heard the lorry driver would not have been able to see her as his CCTV cameras and pedestrian warning system were not connected.
The coroner said both systems should become mandatory in large vehicles to prevent future deaths.
Mrs Blythin was also found to have painkillers in her system above the therapeutic level which could have affected her coordination and caused drowsiness.
The lorry was stopped behind a car at traffic lights in Water Street and its driver, Adam Lewis, had planned to turn into Bridge Street which meant swinging out into the opposite lane.
As he moved off he said he noticed a "flash" in one of his mirrors and stopped. It was only then he said he saw Mrs Blythin.
The lorry was fitted with six rear view mirrors and CCTV cameras, although they were not connected to a monitor in Mr Lewis' cab, and an audible system alerting pedestrians that the vehicle was turning was not connected.
Deputy coroner for North Wales East and Central, Nicola Jones said she would be issuing a report to the Department for Transport and the Welsh Government.
Recording a conclusion of death in a road traffic collision, she said: "It is not mandatory for the two pieces of kit to be fitted, but had they been there would have been a chance of a different outcome because the driver and potentially Mrs Blythin would have been warned."
"It's a shame the final connection was not made," she added.