Plans for Wales' biggest solar farm on Anglesey on hold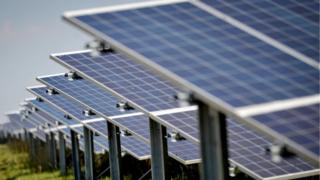 Plans to site Wales' largest solar farm on Anglesey have once again been put on hold.
Permission is being sought for 200,000 solar panels on 220 acres (89 hectares) of land near Llanbadrig, Cemaes Bay.
The plans were first submitted in February 2016, but have been deferred several times since.
Anglesey council's planning committee rejected the plans on Wednesday, despite its officers recommending conditional approval.
It means the application must come back in front of councillors again next month.
Solar farm decision set for delay
Plans for Wales' biggest solar farm
The 49.9MW development would have a lifespan of 30 years and be capable of producing electricity to power 15,500 houses - half the homes on the island.
Objections have been made by Llanbadrig community council, Amlwch town council and Mechell community council, along with 135 letters from individuals and organisations.