'Flushed away' snake rescued from Caernarfon sewerage plant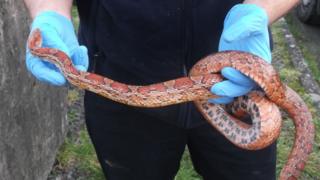 A snake found writhing in a sewer system could have been flushed down the toilet, animal welfare experts think.
The Carolina corn snake was discovered in a sewage chamber at a water treatment works in Gwynedd.
The 4ft (1.2m) long reptile was uncovered when workers at the Llanllyfni plant, near Caernarfon, were carrying out maintenance work.
RSPCA Cymru said the recovering snake was "another timely reminder" of the challenges of caring for exotic pets.
"We took the cover off the manhole and saw this 'pink thing'," said Welsh Water maintenance engineer, Keith Bridge.
"I looked closer and realised that it was a snake. While I didn't know if it was poisonous or not, I knew that it wasn't from this country.
"This was the last thing I expected to see in the sewer and I was worried that it would get hurt if we didn't remove it."
CORN SNAKE FACTS:
Native to North America, corn snakes - or Pantherophis guttata - have become the most popular pet snake in the UK
Despite resembling the poisonous copperhead snake - corn snakes are not venomous
They can grow to about 6ft (1.8m)
It is thought to get its name from the patterns on its skin, which resemble grains of corn
They are also known for gathering near grain stores and other places where they can find their favourite food - rodents
They are also known as the Red Rat Snake
RSPCA inspector Andrew Broadbent rushed to the plant when the alarm was raised, and managed to recover it from the sewer works.
"I arrived at the scene to find the adult Carolina corn snake perched on a metal assembly a few inches above the raw sewage flowing into the works. With the assistance of staff, I was able to reach down and retrieve the snake," he said.
The snake appeared bright, alert and unharmed by the ordeal - and was kept in RSPCA care overnight before being transferred to specialist facilities.
"This is another timely reminder as to some of the challenges faced by caring for exotic pets, such as snakes. It is vital accommodation is appropriate and secure," added Insp Broadbent.
He said the snake had either escaped down a toilet, or had been flushed down one, and appealed for anyone who knew where the reptile came from to contact the charity.