Missing Pauline Finlay: Body exhumed from graveyard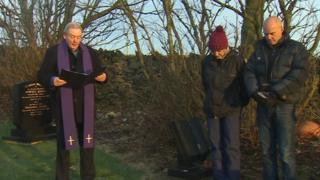 The body of woman has been exhumed from a grave at Anglesey as part of a police cold case review to return her remains to her family in Ireland.
The remains were found on a beach at Cable Bay in October 1994 and they were later buried without identification.
Police used DNA research to link them to Pauline Finlay, 49, who disappeared while walking her dogs on a beach near Wexford seven months earlier.
A priest led a Catholic service before the remains were exhumed on Tuesday.
They will be examined by experts before an inquest is expected to formally identify them as Ms Finlay.
Anglesey priest Rev Fr Frank Murray said he was delighted her family were finally getting closure.
"They have waited a long time for this," he said.
In 2016, tests suggested the body found at Cable Bay in October 1994, could be that of Ms Finlay.
In October, the High Court in London agreed the inquest should be re-opened.
Caernarfon coroner Dewi Pritchard-Jones said his predecessor and police at the time failed to identify the remains and they were buried.
The cause of death was not found and an open verdict was recorded.
Officers from Operation Orchid have been using new DNA technology to identify human remains discovered in the region over the last five decades.
Det Con Don Kenyon, who is leading the investigation, said officers believed the remains were those of Ms Finlay whose family had been kept aware of developments.
"We hope to return Pauline to her family as soon as possible to grant her and her family the dignity and comfort of a full funeral service," he said.