Unmarked Anglesey grave body is missing Pauline Finlay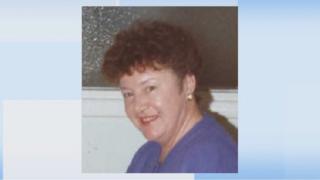 Human remains buried in an unmarked grave on Anglesey are those of a missing woman from Ireland, DNA results have confirmed.
Pauline Finlay, 49, disappeared in County Wexford while out walking her dogs in 1994.
Leg and hip remains were found at Cable Bay, Holyhead, seven months later, but police failed to identify them.
Coroner Dewi Pritchard Jones said Ms Finlay had more than likely "died as a result of an accident".
Mr Pritchard Jones said: "The appearance and view expressed by the police in Ireland was she had probably fallen into the sea and drowned."
He added her remains had been sent to Dublin and the case was now in the hands of coroners there.
The unmarked grave was exhumed earlier this month as part of a cold case review by North Wales Police.
Officers from Operation Orchid have been using new DNA technology to identify human remains discovered in the region over the past five decades.
The exhumation was ordered by the High Court in London in October after tests in 2016 suggested the body found could be that of Ms Finlay.