Half of Beaumaris Town Council members resign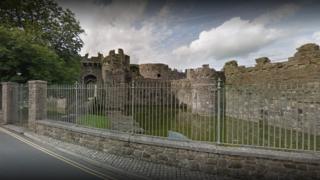 Half the members of a town council on Anglesey have resigned.
Seven of the 14 councillors on Beaumaris Town Council stepped down after a meeting on Monday, although no reasons were given.
BBC Wales has been told a complaint was made by a councillor against the mace bearer, who was subsequently cleared.
The town council said it wanted to reassure businesses and residents that it remained "fully operational".
The agenda for Monday's meeting included the items "disciplinary hearing concerning Mace bearer/letter from resident" and "grievances from council staff".
A statement from the council said: "Beaumaris Town Council confirms that seven members have resigned.
"The remaining members wish to reassure the businesses and residents of Beaumaris that the town council remains fully operational and will be serving the needs of the community.
"We would also like to reassure the public that any issues arising from what has taken place will be looked into and corrected in line with local government policies and procedures.
"Beaumaris Town Council would like to thank councillors who have resigned for their good work and service to the community of Beaumaris and Llanfaes during their time as councillors."
One of the councillors who resigned was the mayor, Councillor Frank Carr.
He and the other councillors who stepped down were understood to be meeting on Wednesday evening to consider their next steps.