Anger over Gwynedd bus service route changes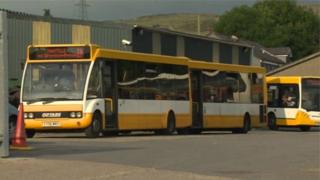 Some communities have been left without a bus service, after an operator was stripped of its licence.
Express Motors was ordered off the road from New Year's Eve by the Wales Traffic Commissioner over vehicle record discrepancies.
The company ran a substantial number of routes in the county - from Bangor to Dolgellau.
Gwynedd council said it was endeavouring to provide replacement services - especially school buses.
The villages of Morfa Bychan and Borth-y-Gest have lost all 10 daily buses to nearby Porthmadog - with no replacement for the 99 service.
A route that used to run 14 times a day between Porthmadog and Caernarfon is now just operating three services.
And it is a similar story for villages north of Caernarfon - such as Dinorwig and Deiniolen, who have had services cut in half.
Dinorwig, above Llanberis, has been left with just three buses a day, with the last service to Caernarfon ending at 16:10.
Porthmadog West councillor Selwyn Griffith said the situation in Borth-y-Gest was unacceptable.
"I'm very disappointed - it's a real problem, especially for the elderly here," he said.
"There used to be an hourly service between eight-thirty and half-past-six - now we have nothing at all."
The decision to revoke the Penygroes-based bus company's operating licence followed an investigation by the Driver and Vehicle Standards Agency.
In August, Express Motors director Ian Wyn Jones was disqualified from holding or applying for an operator's licence for 12 months for falsifying maintenance records.
Transport manager Kevin Wyn Jones was also banned from holding or applying for a similar position until he takes a specialist course.
A new company Express Motors (Caernarfon) has applied for a fresh operators licence, which will be heard on 17 January.
A spokesman for Gwynedd council said: "Our priority is to ensure that public and educational bus services are available to Gwynedd residents, and we are confident that these bus services will continue from January 2018 onwards."