Alcohol issues prompt Llandudno theatre security boost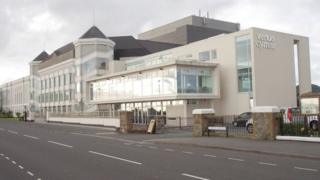 Boozy theatregoers have been spoiling performances, prompting a council to beef up security at a seaside venue.
Venue Cymru in Llandudno has received 43 complaints since March 2015 about rowdy patrons.
Most of these complaints were about people watching The Full Monty.
A report to theatre owner Conwy council said there was a problem with "patrons under the influence of alcohol in the auditorium spoiling the show for the majority of the audience".
The Full Monty - based on the hit film about Sheffield steelworkers-turned-strippers - stars former Hollyoaks actor Gary Lucy.
A Venue Cymru spokeswoman said: "We take this issue very seriously as it is disruptive for the vast majority of our patrons who wish to enjoy a night out at the theatre.
"In response to these incidents, we have increased the number of security staff that we have on duty at selected shows."
The theatre received 19 alcohol-related complaints in 2015-16, dropping to eight the following year.
However, since March 2017, last year's figure has already doubled to 16.
The number of bag checks has increased as it is thought people have been bringing their own alcohol and anyone caught smuggling booze into the venue has it confiscated.
"We continue to refuse to serve patrons who we believe have taken too much alcohol and to ask patrons to leave when their behaviour is unacceptable," Venue Cymru said.
The issue was "noted" by Conwy councillors at a scrutiny committee meeting on Monday when they discussed the authority's annual compliments and complaints review.