Emma Baum: Police criticised for domestic abuse response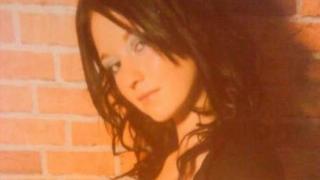 A police force has been told to improve its response to domestic abuse complaints after a woman was battered to death by her ex-boyfriend.
Emma Baum, 22, was found fatally injured with at least 20 injuries to her head at home in Penygroes, Gwynedd.
David Davies admitted killing her in a row over access to their child.
An Independent Police Complaints Commission inquiry said North Wales Police needed improvements. The force has accepted the recommendations.
The inquiry focused on the contact Ms Baum had had with North Wales Police in the months before she was killed after Davies had turned up at her house in Llwyndu Road during the early hours of 18 July and savagely beat her with a crowbar in an attack described as "sustained and brutal".
The investigation found that Ms Baum had made two complaints about Davies in April and May.
She first contacted officers on 24 April to report she had been assaulted by Davies and alleged it was the third incident of domestic abuse but the first time she had reported it.
The earlier unreported incidents were not investigated or considered as part of risk assessment processes.
A month later on 30 May, she reported Davies had stolen her dog but the incident log was closed because it was considered to be a civil matter.
The inquiry said that on the day before the murder, Ms Baum's mother said she had spoken to two officers raising fears about her daughter's safety although neither officer could recall the conversation.
The report also found that on the night Ms Baum was killed, a 999 call was made reporting that a woman was screaming. Two officers went to investigate but after driving around found nothing of concern and left the area.
Ms Baum's body was found the next day in her garden which was not visible from the road.
The IPCC said the action of the officers was proportionate.
Two PCs, a sergeant and call handler were cleared of misconduct in November.
The IPCC made a series of recommendations for North Wales Police to implement including a reinforcement of training to recognise potential signs of domestic abuse, including thefts and burglary.
It also suggested making investigating officers review logs and listen to the audio of calls received in domestic abuse cases to identify any issues of concern.
IPCC operations manager Melanie Palmer said: "Our investigation found a number of areas where North Wales Police could improve their service for vulnerable victims of domestic abuse.
"I welcome the force's acceptance of the learning recommendations and hope this achieves improvements in policy and practice in this difficult area of policing."
The force's Dep Ch Con Gareth Pritchard said: "The IPCC's recommendations have been carefully considered and people can be confident that we have put measures in place to address them."