Gwynedd men guilty of forcing badger and dog fight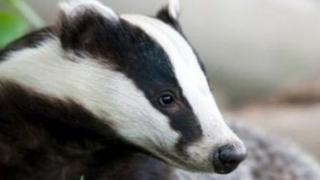 Two men have been found guilty of animal welfare offences after an RSPCA probe into animal fighting.
Jordan Houlston, 24, of Llandudno, and David Thomas, 51, of Blaenau Ffestiniog, were convicted of causing unnecessary suffering to a badger by making it fight with dogs.
Llandudno Magistrates' Court was shown video footage of the men at an animal fight in Cwm Bowydd farm, Blaenau Ffestiniog, in February 2017.
They will be sentenced next month.
Houlston was also found guilty of other offences related to the welfare of dogs, but not guilty of two charges - wilfully injuring a badger and causing suffering to four dogs.
Thomas was found guilty of six other animal welfare offences.
Artificial badger setts were found at the farm, which is co-owned by Thomas, along with seven skulls, possibly those of foxes or badgers.
District judge Gwyn Jones said pipes were used to hold captive animals and dogs brought to a copse to fight.
Allan Armbrister, defending Houlston, who claimed he had not been present at the time of the animal fight, claimed the way the RSPCA had conducted itself had been "shambolic."
Clive Rees, defending Thomas, argued that there had been an "institutionalised and systemic failure" and identification of his client was unsatisfactory.
Marc Morris, 26, from Blaenau Ffestiniog, and a 17-year-old boy had previously pleaded guilty to animal welfare offences.
A boy of 13 who denied related charges was cleared after the judge ruled he had no case to answer.