Helmet saves mountain rescuer in Snowdonia fall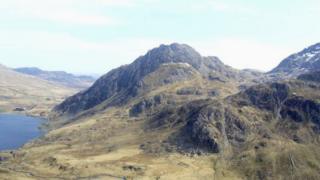 A mountain rescuer has been saved by his helmet after a fall on one of Snowdonia's most treacherous peaks.
The headgear was shattered when the Ogwen Valley team member slipped during an an eight-hour operation to aid three men.
The mountaineers had become trapped in appalling conditions on the snow-covered 3,000ft (920m) Tryfan mountain.
The rescuer was later given a check-up at hospital - while the three climbers were safely escorted off the peak.
The alarm was raised on Saturday evening, and torches of the missing trio led the 10 rescuers to them.
But one team member slid on ice close to the spot where the drummer with the Welsh rock band Yucatan was killed last month.
Conditions were described as poor on the peak, with torrential rain, sleet, snow and low cloud.
The stranded climbers were finally lowered to safety on ropes, and led off the mountain at about 01:00 GMT on Sunday morning.
Meanwhile, a man was airlifted to hospital after being knocked unconscious while walking on a steep path on Pen yr Ole Wen on Sunday.
The man, in his 40s, from Manchester, was helped by other hikers, including a nurse who was nearby.
The Ogwen Valley team helped winch him onto the coastguard rescue helicopter and he was flown to a hospital in Bangor.